Women's Pro Soccer Players Stop Games to Protest Sexual Abuse in the NWSL
admin, 2 weeks ago
0
2 min

read
64
The women of professional soccer in America spoke loud and clear Wednesday night in protest of sexual abuse allegations that have overtaken their league. Players from four teams stood, or knelt, in silence before their two games. A third protest was also expected later in the evening.
The players for North Carolina Courage FC and Racing Louisville FC locked in arms while standing in a circle before their match on the pitch in Louisville. Players from NJ/NY Gotham FC and Washington Spirit did the same before their match, though some knelt in protest.
Players are expected to do the same in Houston later in the night as the Portland Thorns FC take on the Houston Dash.
Last week, the North Carolina Courage fired head coach Paul Riley for sexual abuse allegations. NWSL commissioner Lisa Baird she was "shocked and disgusted" at the allegations.
"A safe and secure work environment is a top priority for the league and its collective ownership," Baird said in a statement.
Baird continued in her statement that the league is implementing "a comprehensive anti-harassment/anti-discrimination policy."
"In addition, the league has mandated that league and team staff who regularly interact with players participate in training conducted by the US Center for SafeSport, and is further mandating background checks and additional screening for those same individuals," Baird said. "We are implementing a new anonymous reporting process, whereby players, team and league staff may text concerns to the league, which will be promptly investigated."
The next day, Baird resigned from her post. The NWSL reshuffled its board after lots of players came forward with similar allegations.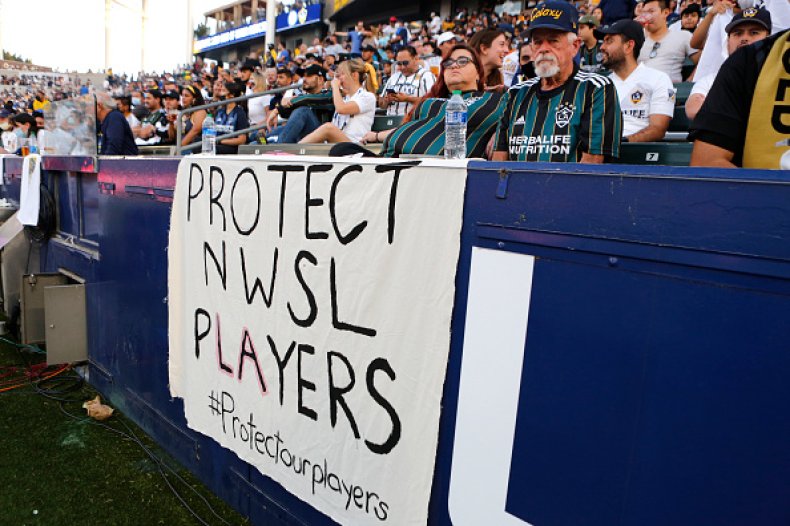 The NWSL released this statement following Baird's resignation.
"On behalf of the entire league, we are heartbroken for what far too many players have had to endure in order to simply play the game they love, and we are so incredibly sorry," the three remaining executive committee members stated. "We understand that we must undertake a significant systemic and cultural transformation to address the issues required to become the type of league that NWSL players and their fans deserve and regain the trust of both. We're committed to doing just that and recognize that this won't happen overnight, but only through vigilance over time."
The NWSL has hired the Covington & Burling firm to direct investigations into all sexual abuse allegations and then make subsequent recommendations for reform to the newly-formed board. Amanda Kramer, who's a former Assistant United States Attorney in the U.S. Attorney's Office for the Southern District of New York, will lead that team, according to the NWSL website.
Related posts
Remu Suzumori FAREWELL TO HER BOYFRIEND, JAPANESE BEAUTY QUIETLY APPLIED TO BE AN ACTRESS
Remu Suzumori was born in 1997, joined the 18+ film industry in 2019. Although she has just joined, she has…
Marina Shiraishi: Husband does not know she's AV starlet
Marina Shiraishi, born on August 10, 1986, is one of the most veteran names in the Japanese adult film industry. Starting…
SEC Approves Volt Equity's Crypto Stock ETF
The U.S. Securities and Exchange Commission (SEC) has approved an exchange-traded fund (ETF) that aims to provide investors with exposure to…
El Salvador to use bitcoin gains to fund veterinary hospital, president says
By Nelson Renteria SAN SALVADOR (Reuters) – El Salvador will invest some of the $4 million gains it has obtained…